The
Kao Gun Hand Trigger Sprayer
is a handheld spray bottle that is used for a variety of applications, including gardening, cleaning, and household use. The sprayer is designed with a trigger that controls the flow of liquid from the bottle, making it easy to use and control.
The Kao Gun Hand Trigger Sprayer is made from durable materials and is designed to withstand frequent use. It has an adjustable nozzle that allows you to control the spray pattern and the amount of liquid that is dispersed. The sprayer also features a comfortable grip that makes it easy to hold and use for extended periods of time.
The Kao Gun Hand Trigger Sprayer can be used with a variety of liquids, including water, cleaning solutions, pesticides, and fertilizers. It is ideal for use in gardens, on lawns, and around the home for cleaning tasks such as washing windows or cleaning floors.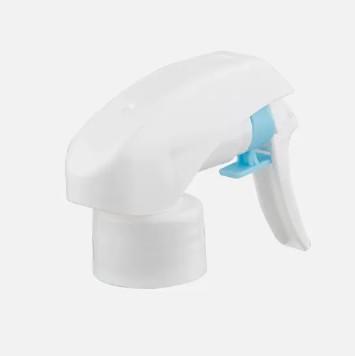 Trigger sprayers were developed as a more convenient and efficient way to apply liquids, such as cleaning solutions or pesticides, to surfaces. Prior to the invention of trigger sprayers, liquid was typically applied using a pour spout or a hand-held spray bottle with a pump mechanism.
The first trigger sprayers were developed in the mid-20th century and were typically made from metal or glass. These early sprayers were often used in industrial settings for applications such as painting or cleaning large machinery.
Over time, trigger sprayers became more widely used in consumer applications, such as gardening and household cleaning. They were also developed to be more lightweight and durable, using materials such as plastic and silicone.
Today, there are many different types of trigger sprayers available, each designed for specific applications and with a range of features such as adjustable nozzles, ergonomic grips, and chemical-resistant materials. The Kao Gun Hand Trigger Sprayer is one such example of a trigger sprayer designed for home and garden use, with a durable construction, adjustable nozzle, and comfortable grip.
Overall, the Kao Gun Hand Trigger Sprayer is a versatile and reliable tool that is suitable for a range of applications. Its ergonomic design and easy-to-use trigger make it a popular choice among gardeners, cleaners, and homeowners who need a dependable and effective sprayer.